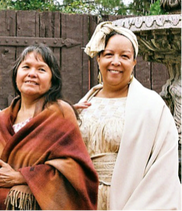 The Turtle Island Project's 30th Annual "A Women's Healing Journey"The "JOURNEY" begins the moment you sign up. Turtle Faculty:
Mona Polacca, MSW (
International Council of 13 Indigenous Grandmothers)
and Charlee Sutton, MSW, LCSW (Founding Faculty,
MFI [MultiCultural Family Institute])
will
Journey
with you in an experiential process utilizing Indigenous and culturally expansive rituals and ceremonies in recognition of our womanhood.
WHEN: OCTOBER 27 - 29, 2017, 5:00pm Friday until 5:00 pm Sunday (MST)LOCATION:
KENYON RANCH
, Tumacacori, Arizona.
Kenyon Ranch is an ideal destination for your personal and spiritual work. Kenyon Ranch provides a peaceful environment for self-reflection and healing work.
Kenyon Ranch is 40 miles south of Tucson airport and 2.5 hours drive from Phoenix Sky Harbor airport.
HOW to PREPARE for the JOURNEY:
"You are the principal agent in your healing and we are hopeful that you will experience a healing view of who you are as a "Woman." Turtle faculty honors you, guide and support the journey.
Detailed information regarding the weekend is provided to participants two weeks prior to the
reTreat
.
All-INCLUSIVE INCLUDES:
ACCOMMODATIONS: There are 17 casitas. Participants share sleeping rooms. A limited number of Single sleeping rooms are available for an additional cost – most single rooms share a bathroom.
FOOD: All meals, snacks and water are included. If you are gluten, vegan, vegetarian, have food allergies or special needs please tell us at least two weeks prior to the retreat. This facility is liquor, smoke and drug free.
THE CAPACITY FOR THE reTREAT is 20 To MAXIMIZE THE INTIMACY OF YOUR EXPERIENCE AND PARTICIPATION
SCHEDULING ACTIVITIES BEFORE and AFTER the reTREAT (on your own):
Nearby there are nature preserves, Kitt Peak National Observatory, San Xavier de Bac Mission, Tubac Presidio State Historic Park, horseback riding, golf, tennis, and shopping in Tubac. Kenyon Ranch is close to Nogales, Mexico.
REMEMBER:
Your
"JOURNEY"
begins the moment you sign up.
---