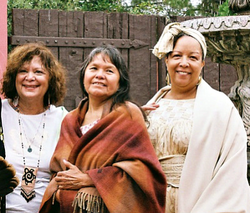 30th Annual A Women's Healing Journey
Kenyon Ranch, Tumacacori, AZ. October 27-29, 2017

Our commitment is in honoring you and providing you with a retreat that refreshes, rejuvenates, replenishes, and aides in the rediscovering of the outstanding person you are.

This is not a weekend to FAST or to Start a Restrictive Diet.

Throughout the weekend you will participate in:
• Traditional Talking Circles • Sweat Lodge Ceremony • Women's Honoring Ceremony
• Vision Walk • Drumming and Singing • Story Crafts


Turtle Faculty, Joyce and Mona and Charlee journey with you:
• RECONNECT • EXPLORE • RELAX • HONOR • REDISCOVER • CREATE ANEW • EXPAND • RENEW YOUR SPIRIT

LOCATION: KENYON RANCH
Kenyon Ranch is 40 miles south of Tucson airport and 2.5 hours drive
From Phoenix Sky Harbor airport. An ideal destination for our work. Both spiritual and personal Kenyon Ranch provides a peaceful environment for reconnecting with nature – bird watching, stargazing and self-reflection.

ABOUT THE SLEEPING ROOMS
There are 17 casitas with room for 50 or more. We suggest shared bedrooms. Single sleeping rooms are available for an additional cost.
Our registration is restricted to maximize your experience.

ABOUT FOOD
If you have any food allergies or special needs such as a special diet, vegetarian meals, gluten free, etc. Please let us know as soon as possible. We want to take good care of you. This facility is liquor, smoke and drug free.

SCHEDULING ACTIVITIES
Please schedule all activities before or after the retreat. You are in ceremony from 5:00 p.m. Friday until 5:00 p.m. Sunday. You will have time for use of the swimming pool. Kenyon Ranch is close to Tubac, AZ and Nogales, Mexico. There are nature preserves, an observatory, horseback riding, golf, tennis and shopping available before and after the retreat.

BY APPOINTMENT ONLY MASSAGE
Advance reservations are required and are separate from WHJ. Please make arrangements before or after the weekend begins with Joyce of Kenyon Ranch.

HOW to PREPARE for the JOURNEY
Specifics on clothing, toiletry items, what is needed for ceremonies and rituals will be sent to you about two weeks before the weekend.

We say your "JOURNEY" begins the moment you sign up. As we await your arrival we want you to being to notice and document your life. You are on the path.
---